In this post we run through our recommendations for the best way to do Disneyland Paris on a budget. From when to book, to what to buy before you travel, and where to stay.

Disneyland Paris is a dream destination for families, couples, and Disney enthusiasts alike who are captured by the promises of an unforgettable experience filled with characters, rides, and magical adventures.
However, these dreams can often be swept to the side at the cost of visiting a Disney park – let's face it, it's not a cheap holiday!
What makes us the experts to give you this advice? We have made several trips to Disneyland Paris over the years, always on a budget while not missing out on any of the fun. We've personally tried and tested our tips to figure out the cheapest way to plan a trip to Disneyland Paris.
Here's a summarised list of all of the tips in this post, click on one to be taken straight to that section or keep reading to learn more about the best way to do Disneyland Paris on a budget.
Planning a trip to Disneyland Paris?
Disney is a magical place but planning a trip to Disneyland Paris can be overwhelming, especially for a first timer. That's why we've pulled together some of our most popular Disneyland Paris posts to help you plan your Disney trip.
When you're travelling to Disneyland Paris with kids for the first time you want to soak up all of the hints, tips and tricks you can. This is why we've shared our 25+ best tips for travelling to Disneyland Paris with kids.
A massive part of planning your trip to Disneyland Paris is planning where you're going to stay. Onsite hotel? Off Site hotel? Luxury? Budget? There are so many options which is why we've done a post reviewing our favourite hotel at Disneyland Paris, Hotel Cheyenne.
If you're at the start of your planning and soaking in as much Disney knowledge as possible you may be asking yourself "is Disneyland Paris worth it?". To help you answer this question we've pulled together the 5 best and worst things about visiting Disneyland Paris.
10 Tips on the Best Way To Do Disneyland Paris on a Budget
Book early
The cheapest time to book a trip to Disneyland Paris, especially if you're booking through their site directly, is as soon as the new dates are released. We've made the mistake of waiting before and the prices started steadily increasing before jumping quite considerably.
Buy an annual pass
For one visit this may not actually save you any money, but if you're planning on going a few times throughout the year then an annual pass for Disneyland Paris is definitely the way to do it and save money. A one day ticket will set you back on anywhere from €87 for one adult, whereas an annual pass for one adult starts from €289. This means that if you're buying park tickets for more than 3 days an annual pass will save you money.
Don't buy the meal plan
Text
Bring snacks
While it's fun and tasty to buy Disney themed snacks while you're there, this can very quickly add up to ask astronomical amount. Take some time to jump on the metro to a local supermarket and stick up on snacks and treats to save yourself some money.
Buy Disney ears before you go
Disney souvenirs aren't cheaper at Disneyland Paris, there's just more variety. To save some money keep an eye out for deals and buy your Disney ears and costumes before you travel.
Choose a budget friendly hotel
With two superhero mad boys it would be amazing to stay at Hotel New York, however for us it's just not worth the cost with how often you'll be in the room. Budget friendly hotels like Hotel Cheyenne and Santa Fe may not be as swanky but they're still clean and comfortable for the few hours you're awake in the rooms.
Be flexible with your dates
If you're not confined by school holidays then spend some time looking across several dates ranges on the Disneyland Paris website. Once you search you'll also find a section at the bottom with some suggestions if your dates are flexible. Even if you need to go during the school holidays still do some research. We were shocked to find that it was cheaper to go in August than the Easter holidays in April!
Book travel separately
In all the times we've been to Disneyland Paris I've found that it's just cheaper to book your travel separately – whether you're travelling by train, plane or car. By all means, try pricing it up through the Disneyland Paris website and separately to check but we've always found it considerably more expensive booking travel on the Disneyland Paris website.
Avoid premier access
With a good plan of action you can avoid the main queues and still have a good visit. Why but premier access when there is way better stuff to spend your money on that will improve your visit. In fact, you could probably get a couple of extra nights stay in one of the budget Disneyland Paris hotels for the cost of Premier Access for a family of 4!
Don't get carried away
Set a daily budget ahead of your trip and stick to it. It's easy to get carried away by the Disney magic and want to buy all the snacks and all the souvenirs but that cost adds up so quickly. If you know you're going to want to buy some of those boys then be realistic and include it in your budget from the beginning.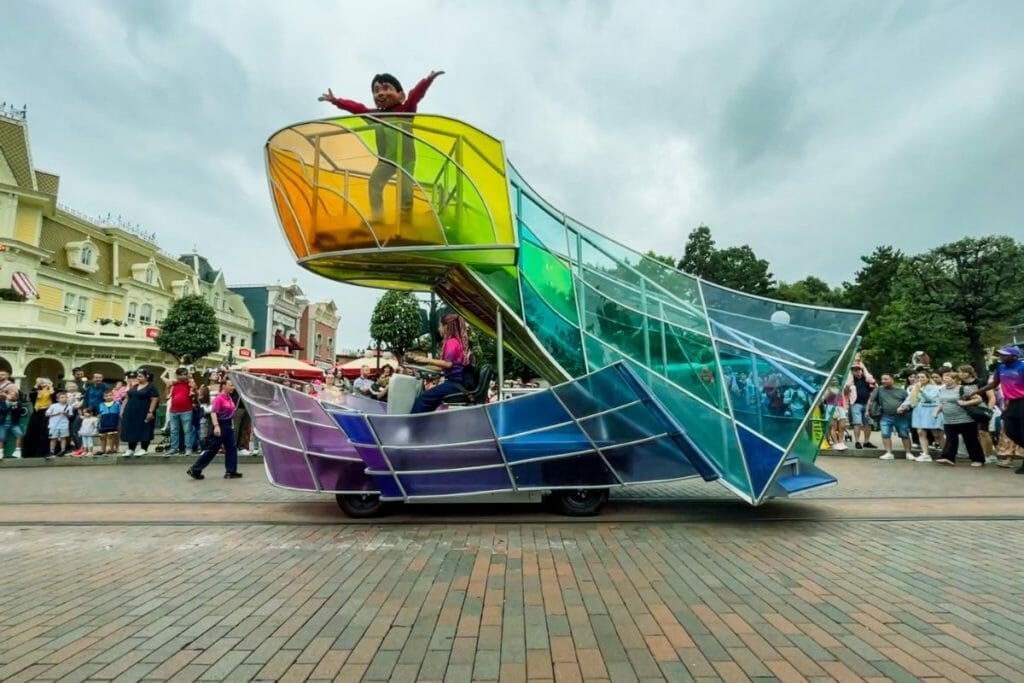 Best way to do Disneyland Paris on a budget – Final Thoughts
Hopefully these tips on the best way to do Disneyland Paris on a budget have armed you with the knowledge to experience the magic of Disney without breaking the bank!
To summarise, book as early and flexibly as possible, and make sure you shop around for different ticket, hotel and transport options. Don't get swept up in the magic of Disney by eating at expensive restaurants or spending loads on souvenirs you can get much cheaper at home.