Hello and welcome to Travel with the Whitrows, a family travel blog filled with fun activities for kids, family friendly destinations and incredible scenery.
Growing up in Armed Forces families means that travel has always been a part of our lives and there's nothing we love more than travelling to different countries and immersing ourselves in the culture. We continued to travel even with Jacob (who had his first holiday at 6 months old) until 2020 when everything stopped just as we were about to bring Finley into the world. Finally we're able to start travelling again, exploring not only the UK and Europe but the rest of the world. 
As a family with two young boys, we want them to experience as many different cultures as possible, try the foods and learn the languages. When we realised that a lot of parents think it can be difficult, confusing or expensive to travel with kids we decided to start Travel with the Whitrows. Join us as we travel the world and become inspired through our reviews, day trips, city breaks and adventures to the far flung parts of the world. 
Scroll down to find out more about each member of the Whitrow family.
Lou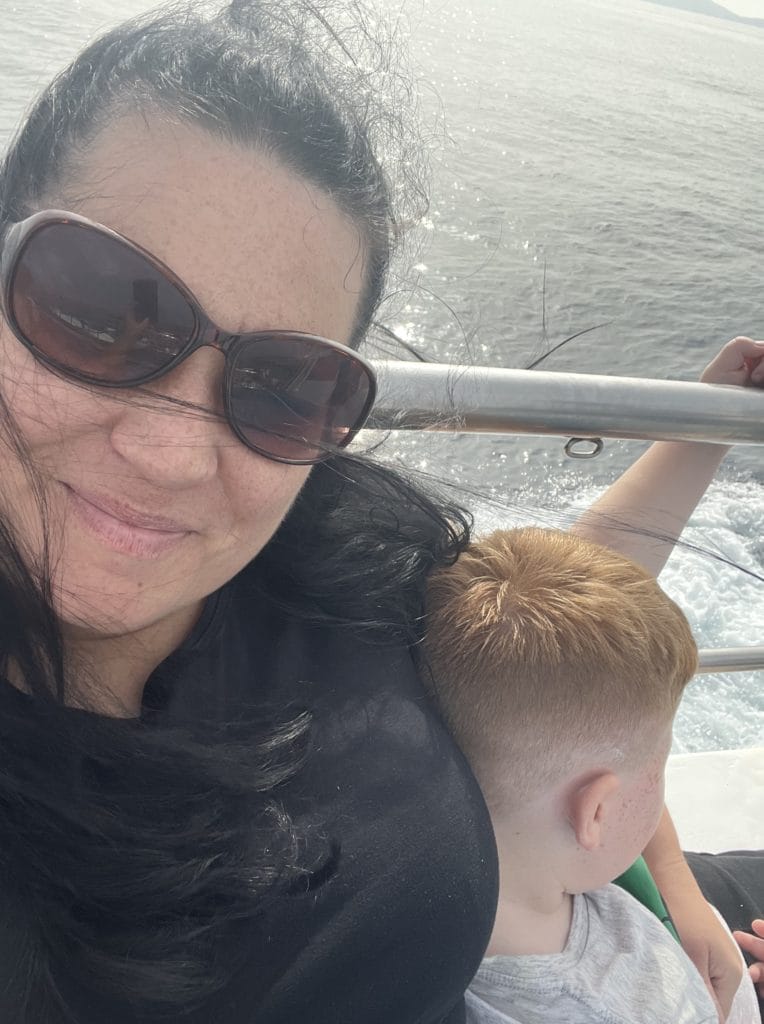 Hey, I'm Lou and I take the bulk of managing Travel with the Whitrows which means that if you've been browsing our posts then chances are they were written by me! Growing up I lived in England, several places in Germany and Cyprus. We used this as a base to travel to Italy, France, Rhodes, Egypt and Austria – to name a few! Greece is my all time favourite destination – not surprising considering I spent part of my childhood in Cyprus. I just LOVE everything about Greece. The people are welcoming, there's so much history and the food … need I say more!
Dream Destination: I don't have one dream destination, I have about 5 but have managed to narrow it down to three. I want to sail through the Phang Nga Bay in Thailand, camp in Wadi Rum in Jordan and party in New Orleans.
Luke
Hi, I'm Luke and growing up I spent 14 years living in Germany. I didn't travel a lot as a kid so I'm a bit of a late bloomer (compared to Lou) from a travel perspective but I really caught the bug when me and Lou travelled to Australia in our late teens. I have a passion for trying new things and experiencing as much as possible – I'm also a bit of an animal expert so any animal related posts we're likely written by me. Lou's the planner so if things go slightly overboard you can bet that I've had some involvement! My favourite destination is Morocco and am looking forward to taking the boys there one day. Morocco is the perfect mix of old and new, where it's easy to socialise with the locals and haggle over a new hat!
Dream Destination: If you know me you won't be surprised that my dream destinations are animal focussed. I can't wait to travel to Tanzania to do a safari and explore the rainforests of Borneo.
Jacob
At 7 years old Jacob is our eldest and already has the travel bug. He loves travelling and gets excited about learning all of the sights, language and history of the places we travel to.
Dream destination: After learning about Captain Scott at school Jacob's dream place to travel to is Antarctica with Japan as a close second (the boy has got expensive taste!).
Finley
Finley is 3 so is mostly along for the ride when it comes to choosing where we travel and what we do when there! He's starting to understand what the word holiday means though and the travel bug is growing as he gets older – it won't be long until he's joining Jacob as he learns to count to 10 in Spanish.
Dream destination: Finley is low maintenance and is happy anywhere with a slide or a beach!