So, you've decided to see what the hype is about and you're planning a family vacation to Ibiza, you may be wondering what kind of activities are available for the whole family. This post takes you through what we consider to be the best things to do in Ibiza with your kids in tow. Now just pack your sunscreen, grab your shades, and get ready to have some fun in the sun!
Ibiza isn't always the first place people think of when they're considering family holiday destinations because it's renowned for its parties, nightlife and world class DJs. However this reputation is starting to change and families are flocking to the island for more than the crystal clear beaches. More people are starting to see that Ibiza offers a variety of family-friendly activities that will keep everyone entertained. From cruising the spectacular coastline to hiking to the top of a castle – there are loads of things to do on a holiday in Ibiza for families that can be enjoyed by young children, teenagers and adults alike.
Here's all of our best things to do in Ibiza with kids, click on one to be taken straight to that section in the post or keep reading to read about all of them.
Where is Ibiza?
Ibiza is a Spanish island located off the southeastern coast of Spain. Ibiza belongs to a group of islands known as the Balearic Islands, this also includes Mallorca, Menorca and Formentera.
Flights into the Ibiza Town airport run regularly from across Europe, including London, Málaga and Milan. As the island is only around 53 km from end to end, the transfer from the Ibiza Town airport to whichever holiday destination you choose will take no more than an hour.
Is it worth going to Ibiza with kids?
Yes, Ibiza is a great choice for a family holiday. Not only does Ibiza offer great weather, stunning scenery and friendly locals, but there are also enough activities to keep kids of all ages entertained. You can read more about how awesome it is to holiday in Ibiza for families in our Ultimate Travel Guide to Ibiza with Families.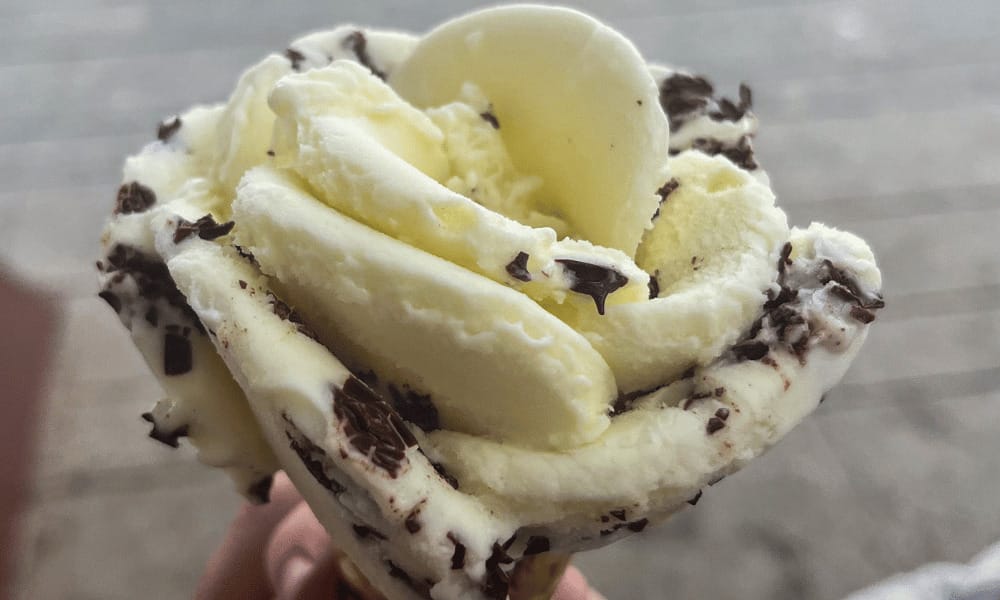 10 Best Things To Do in Ibiza With Kids
Take a trip on the glass bottom boat
Ibiza has some of the most stunning coastline and you'll get fabulous views of this as you cruise along the coast on this glass bottom boat.
The main draw for this tour over a standard boat cruise is the large clear viewing panels in the bottom of the boat that give you a glimpse into the underwater marine life of the beautiful coves of Es Caná, Cala Nova, Cala Llenya, and Cala Mastella.
Finally, you'll reach the remains of an underwater shipwreck that you watch through the glass bottom of the boat.
Get some ice cream at the Ibiza Town Harbour
The marina at Ibiza Town is well worth a visit. Wander around the marina to marvel at the yachts, do some shopping, stop in a cafe for some tapas, or grab an ice cream from one of the many parlours.
If you're looking for somewhere to stop for a refreshing icecream in Ibiza Town then Amorino Gelato sits at the top of our list. They hold a great location with prime real estate on the marina front and offer a wide range of delicious flavours. However the main reason that Amorino is our number one gelato spot is that the ice cream is packed into the cone in the shape of a rose. This insta-worthy treat is a fun novelty for kids and adults alike which makes this place a must visit!
Climb to the top of the Ibiza Castle
Ibiza Town is somewhere that you need to add to your list of places to visit. It's half modern city and half quintessential Spanish town with winding cobbled streets that lead to the impressive Ibiza Castle (Castell de Eivissa).
The Ibiza Castle sits at the top of the Dalt Vila or Old Town. Filled with cobblestone streets and old houses, you pass through the market square filled with many boutique shops and restaurants and cafes.
It is a steep walk to the top with many steps and uneven paths so not ideal if you're bringing a pushchair along, although you can just go part of the way and still see some amazing views.
Explore some of the stunning Ibiza beaches
As with many other Spanish islands, Ibiza is known for it's stunning beaches and crystal clear waters. If you're looking for a secluded spot where you can relax undisturbed then head to Cala Nova. With a handful of restaurants and even fewer shops it's the perfect oasis of tranquillity that is easiest accessed by a short 15-20 minute walk from the resort of Es Caná.
If you're more interested in a resort location with enough restaurants, shops and activities to keep you entertained then the beach at Es Caná is the perfect location.
Somewhere in the middle of these two is Cala Llonga, a white sandy beach situated in a bay and flagged on either side by rolling green hills. There are a great selection of restaurants and shops to keep you busy but it's still relatively peaceful. 
If you're looking for somewhere to eat lunch then I highly recommend Amorigen. This place is the most unassuming hidden gem of a restaurant. Tucked away behind the beach at Cala Nova, Amorigen serves vibrant food in a setting that can only be described as a hippy beach club mixed with an art exhibit. The restaurant itself is stunning with big comfy sofas on a bed of sand – making it ideal as somewhere to eat in Ibiza with kids.  
Can Marça Caves 
These underground caverns in Puerto de San Miguel were originally used by smugglers to store contraband and are now a top tourist attraction in Ibiza. The stalagmites and stalactites make for an eerie backdrop, while the music and light show at the end of the tour is pure magic.
Eat some traditional Spanish paella
When in Rome … or Spain! You can't visit a Spanish Island and not have a traditional Spanish Paella, something on many family bucket lists. Eating an authentic Paella on a Spanish Island is on our Ultimate Family Bucket List so we got to enjoy a tasty meal and tick another item off.
Traditional Spanish Paella is a rice dish made with rice, saffron, vegetables, chicken, and seafood which is all cooked and served in one large pan. It's for this reason that you normally have to pay for 2 servings rather than per person. We found a few places had options with just meat if you're not a seafood fan, or even some vegetarian options. We enjoyed our paella at a beachside restaurant so that the boys could play in the sand while we enjoyed a peaceful afternoon on our last day in Ibiza.
Take a ride on the road train
There are two route options to choose from on this road train tour,
The 'Village of San Carlos and Beaches' tour which visits an 18th century church and several beaches along the coast, allowing time for a dip.
The 'Culture, Ecology and Beach' tour which takes you inland to visit an 18th century church, a centuries old farmhouse, and a 16th century church of Santa Eulària des Riu. Finally you stop at Niu Blau beach where you can have a swim. 
If you're visiting Ibiza with young kids and are concerned that it may be difficult to keep each was really excited that we chose to do the 'Culture, Ecology and Beach' tour but not sure how the boys would take it being aged two and six – I thought they might have been a bit bored at times. I didn't need to worry as they both really liked it and while there were times when they were a bit bored on the train they loved seeing the churches and enjoyed the beach stop. 
Have an active day with some water sports
If you're looking for something more active then why not enjoy one of the many watersports options on offer in Ibiza. Some options include trying your hand at stand up paddle boarding, hiring a jet ski, or learning to scuba dive.
Explore the Ibiza coastline by ferry
Ibiza is known for is its stunning coastline with crystal waters, white sand beaches and interesting cliff formations. There are boat trips that are specifically for touring different towns along the coastline. However I'd recommend incorporating this into a day out and hop on the ferry to Ibiza Town. It has a few stops along the way so is the perfect opportunity to relax and enjoy the scenery with some free time to enjoy in Ibiza Town before heading back.
Explore the Hippy Market in Es Caná
The Hippy Market in Es Caná is pretty cool and well worth the visit. Not only for its eclectic mixture of market stalls, art exhibitions and live music – but also because it's the oldest one in Ibiza!
I'll caution you though because it is so popular that it can be busy and hard to move around at times – we went during low season so I imagine it's worse during the summer months. If you can stand the crowds then exploring all of the stalls with colourful handmade goods will definitely part you with your money! I'd recommend taking cash as while some stalls do take card payments most are still cash only.
Summary: Things to do in Ibiza with kids
Ibiza is the perfect choice for families who want to enjoy a fun holiday together. From its stunning beaches to traditional Spanish food and culture, there's something for everyone on this beautiful island.
If we could only pick one activity to do again from our trip to Ibiza with our kids it would be a visit to Ibiza Town to climb the castle, wander through the harbour, do some shopping and enjoy an ice cream from Amorino Gelato.
Even if you only manage to do a few of the activities on this list you'll have an unforgettable holiday that will leave you counting down the days until you can return.