Welcome to Northumberland a region of breathtaking landscapes, castles steeped in history and excellent shopping destinations. If you're planning a trip (or already have one booked) you're probably wondering what there is to do in the area.
To help with you figure out what to plan during your visit to Northumberland we've pulled together our 13 best things to do when you're visiting Northumberland. Uncover its best-kept secrets and embark on a journey that will leave you in awe of the region's undeniable beauty.
You'll find all of our recommendations of the best things to do when you're visiting Northumberland below. Click on one to take you straight to the section you're most interested in or just start at the top and scroll your way through to get the full story.
List of the best things to do when you're visiting Northumberland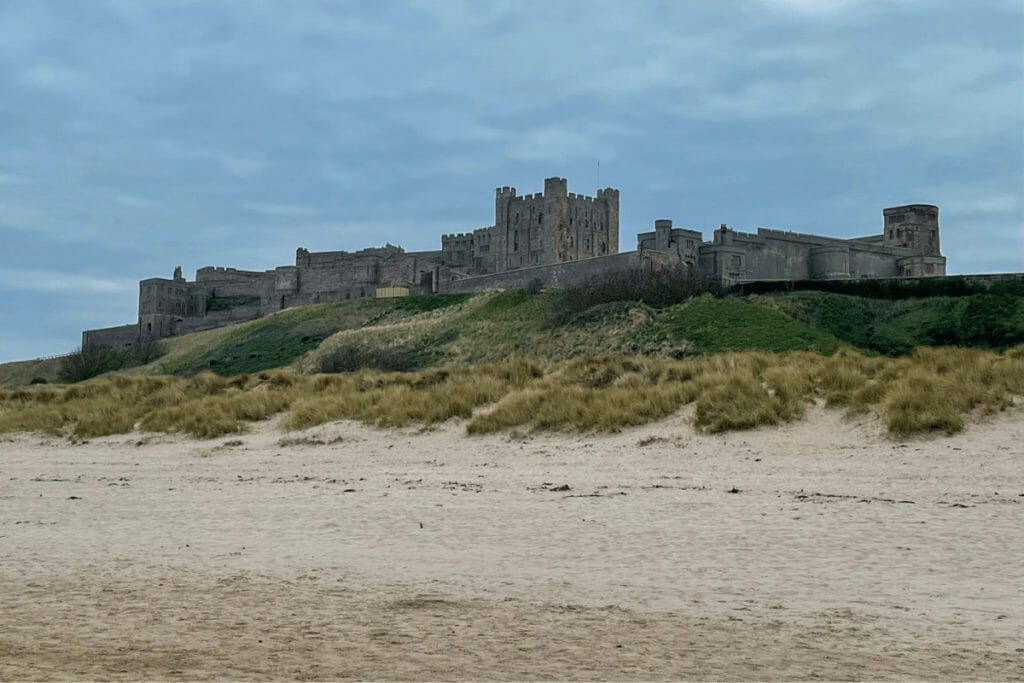 Bamburgh Castle
There are so many castles across the North East of England but Bamburgh Castle is my favourite. Beginning in AD547, Bamburgh Castle has such an interesting history that includes ghosts, myths and vikings. Perhaps this is why it's been chosen for many filming productions including The Tempest, MacBeth and The Last Kingdom. You can read more about Bamburgh Castle and it's interesting history on their website. One of the most unique things about Bamburgh castle is that it's only separated from a sprawling beach by some dunes – makes for some incredible photos!
The reason I LOVE Bamburgh Castle so much is because it's just stunning.
I love driving up and seeing it in all its beauty as you come round that final corner.
I love watching my kids play on the huge beach with Bamburgh castle sitting in the background.
I love exploring the small town and grabbing lunch in one of the little cafes or restaurants.
If this has piqued your interest you can learn more on the Bamburgh Castle website.
Ride the Steam Train between Ford & Etal
Angel of the North
Is there anything more iconic to Northumberland than the Angel of the North? Standing at 20 meters (65 feet) tall with a wingspan of 54 meters (175 feet) this impressive piece of art is believed to be the largest Angel structure in the world. Since it was built in 1998 it has been widely recognisable and has become synonomous with Gateshead.
Head to the Gateshead website to read more about the history of the Angel of the North.
Woodhorn Museum
Stadium Tour at Newcastle United Football Club
For football fans everywhere, taking a tour of a football stadium has to be at the top of your places to visit in the North East of England! Why should you book a tour of the Newcastle United Football Stadium? It truly is a stunning stadium with a comprehensive tour that will take you from the players tunnel to the top of the stadium. Not only will you get to learn about the stadium's rich history but it's centrally located meaning you can pair the tour with some shopping or exploring.
Top Tip: after your tour head to Shearer's Bar and use your tour lanyard for a heavily discounted and delicious lunch. The portions were huge and the food so tasty – I can't recommend it enough!
Tours are available daily (with the exception of match days) at regular intervals between 10.30am and 2.30pm. Depending whether you choose the classic or rooftop tour tickets cost between £18 and £22.50 for an adult and £9.90 for a junior. You can buy tour tickets on the Newcastle United website.
Holy Island (Lindsfarne)
Jedburgh Castle, Jail and Museum
You'll need to travel around an hour into Scotland to visit this castle / prison. Even though it's a bit further than some of the other thing's to do when you're visiting Northumberland it's absolutely worth it!
Built on the site of Jedburgh Castle in the 1820s, this castle jail gives insight into what prison was really like for inmates in the nineteenth century. Rich in history, the entire place is now a museum dedicated to the history of the jail and the town of Jedburgh. While it's free to enter they rely on donations to keep the museum open. You can donate at the start or the end of your visit.
Kielder Observatory
Life Science Centre
The Life Science Centre in the heart of Newcastle is the perfect family day out. With a jam packed schedule of experiments, exhibits and shows there's plenty to keep children of any age busy all day. While you're welcome to bring food into the Life Science Centre there is also an onsite cafe that serves sandwiches, wraps, hot snacks and cake.
Top Tip: prioritise the experiments in the Experiment Zone and watching a show in the planetarium. Both are great experiences and included in your entry ticket, but they have specific timings and can have a short wait to take part.
Tickets cost £13.50 for an adult and £10 for a junior. I'd suggest booking in advance and you can book your tickets on the Life Science Centre website.
Northumberland National Park
To experience the true beauty of Northumberland you need to visit the Northumberland National Park. Surrounded by rolling hills, listed buildings and ancient monuments like Hadrian's Wall. The park is 405 square miles (1049km) with 37 designated walking trails so to help you out we've listed the best 3 walks across the different difficulty levels below,
Reaveley Farm Family Stroll: this easy walk is 2.5m (4km) and will take around 2 hours to complete. There is a PDF of the route for the Reaveley Farm Family Stroll available.
Sycamore Gap Walk: this moderate walk is 2m (3.2km) and will take around 1 hour to complete. There is a PDF of the route for the Sycamore Gap Walk available.
Hethpool to the Curr: this strenuous walk is 11.5m (18.4km) and will take around 7 hours to complete. There is a PDF of the route for the Heathpool to the Curr available.
Visit the park authorities website to learn more about visiting the Northumberland National Park.
Eyemouth Harbour
Just over the boarder into Scotland you'll find the small town of Eyemouth. While this small village has some unique and one off shops for a spot of light shopping, the main draw is the harbour. Not only are the views stunning but there's also a large sandy beach to relax on. The best part about a visit to Eyemouth harbour is that you can watch, and even feed, the local harbour seals. Grab lunchtime at xx, they serve fish and chips with a good selection of homemade cakes to finish your meal. When I say that they're a stones throw away from the beach I mean that literally! Situated on the beach makes it so easy to get your food to take away so you can enjoy it while sitting on the beach. If you don't fancy sandy fish and chips then there's plenty of seating inside and outside of the cafe too.
Top Tip: get the kids portion of fish and chips, they're absolutely massive and a great price – you won't be disappointed!
Paxton House and Gardens
Built between 1758 and 1795, Paxton House and Gardens is on an extensive estate full of stunning gardens, a delicious cafe and a Manor House showcasing the best of 18th century design. Throughout the grounds you can find plenty of gardens and nature walks, the original water wheel, and plenty of wildlife to spot. With tons to do for families, Paxton Houses makes for a great day out with kids. There's a den building area and a huge play area. Inside the house you can experience daily Georgian life with opulent rooms, historic artwork and neo-classical interior design.
I'd recommend booking your ticket before you visit. When booking you can choose the option of either a grounds only pass or the full house and ground tour. A full price list detailing the cost of tickets to Paxton House and Gardens can be found on their website
Alnwick Castle
Final thoughts on the best things to do when you're visiting Northumberland
Whether you're a history buff, a nature lover, or simply yearning for a peaceful escape, Northumberland has it all. No matter who you're travelling with, there is something for people of all ages and the area is well worth a visit.
Have you visited any of the places on our list? Comment below and tell us about your favourite thing to do there.