The Disney parks are the most magical place with so much to explore and experience. But what do you do if your only option is a day trip? Can you do Disneyland Paris in one day? If you're staying in Paris and are considering whether to take a day out of the city and visit Disneyland Paris I say do it!
It absolutely is possible to do Disneyland Paris in one day, it just takes some extra planning. We've written this post to help you plan your day with our 7 best tips to visit Disneyland Paris in one day, and a ready made plan of action in our 1 day itinerary for Disneyland Paris.
The tips and itinerary in this post have come from what we've learnt after years of visiting Disneyland Paris and cover what we would prioritise based on our experience and knowledge of how long it takes to get across the park and what rides and attractions are the most worth it. Of course, this is just our experience and opinion though, if we've missed a ride that you'd love to experience then just swap it out for something in the same area.
If you're not sure what rides you want to visit and are planning on doing some more research before you make your own plan of action then take a look at our best rides at Disneyland Paris for kids or what you can ride with a toddler if you're travelling with younger family members.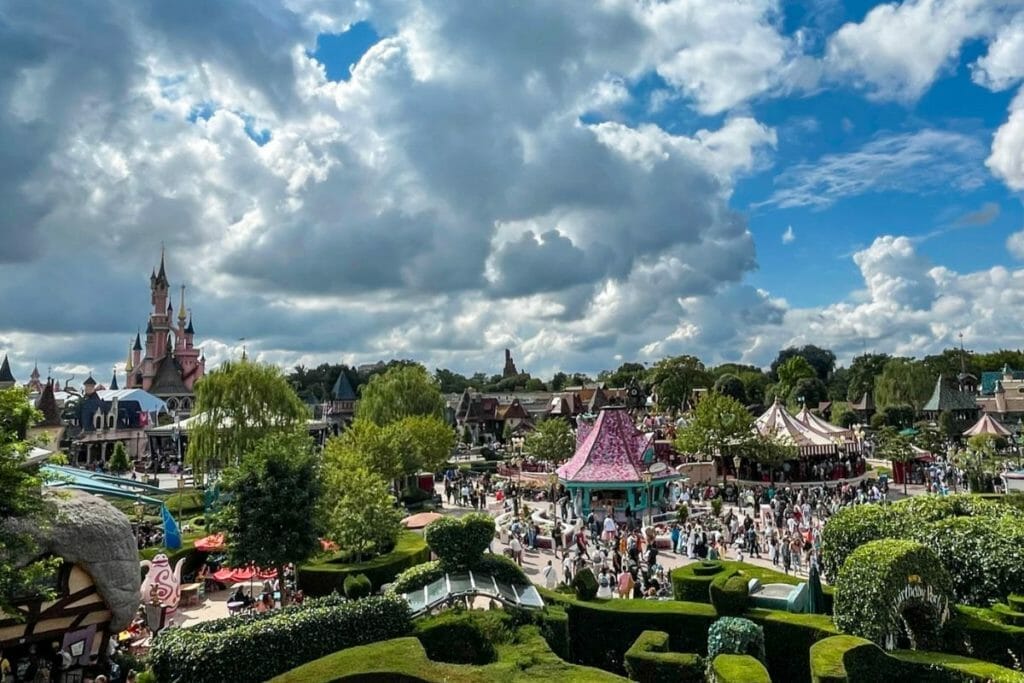 Can you do Disneyland Paris in one day?
Is one day enough for Disneyland Paris?
Is one day enough to see absolutely everything that Disneyland has to offer? No. However, one day is enough at Disneyland Paris to have that Disney experience and get a taste of what's on offer including rides, shoes, attractions and great food.
Can you see both Disneyland Paris parks in one day?
It is possible to see both Disneyland Park and Walt Disney Studios Park in one day. However, it takes a lot of planning and careful prioritisation as you can't see everything.
Planning a trip to Disneyland Paris?
Disney is a magical place but planning a trip to Disneyland Paris can be overwhelming, especially for a first timer. That's why we've pulled together some of our most popular Disneyland Paris posts to help you plan your Disney trip.
When you're travelling to Disneyland Paris with kids for the first time you want to soak up all of the hints, tips and tricks you can. This is why we've shared our 25+ best tips for travelling to Disneyland Paris with kids.
A massive part of planning your trip to Disneyland Paris is planning where you're going to stay. Onsite hotel? Off Site hotel? Luxury? Budget? There are so many options which is why we've done a post reviewing our favourite hotel at Disneyland Paris, Hotel Cheyenne.
Visiting Disneyland Paris can be expensive but we've always managed to visit on a budget that works for us. To help you do the same we've written a post outlining the steps you can take to spend less and visit Disneyland Paris on a budget.
If you're at the start of your planning and soaking in as much Disney knowledge as possible you may be asking yourself "is Disneyland Paris worth it?". To help you answer this question we've pulled together the 5 best and worst things about visiting Disneyland Paris.
7 tips to do Disneyland Paris in one day
Use the app
The Disneyland Paris app is incredibly helpful with an interactive map, queue wait times, show timings and even restaurant menus. It's well worth downloading to keep you organised and on track – something that's essential if you're visiting Disneyland Paris for just one day.
Have a rough plan but be flexible
It's good to have a rough idea of what you want to do and what rides you want to go on to stay on track. However, if your plan is to do a ride now that has a huge queue, remember to be mindful that you only have one day and flex your plan to move onto a ride that has a lower queue time. All queues tend to quiet down later in the day so circle back to that ride you really want to do a bit later.
Visit in the summer months
In the summer months the park closes at 10pm. However, in the winter months the park closes at 8pm. This means that in the summer you get an extra 2 hours of ride time – it's usually quiet ride time too!
Pre-book your show tickets
I wouldn't recommend this on any other post as you can queue and get great seats without having to pre-book your tickets. However, the queue starts building 45 – 60 mins before the show starts so if you don't have 45-60 minutes to wait in a queue just to get into the show then I'd suggest biting the bullet and pre-booking.
Be at the front of the queue when the park opens
It's easy to underestimate the sheer volume of people trying to get into the Disneyland Paris park if it's your first visit. If you can arrive early enough to be one of the first people in when the rope drops then you'll have plenty of time to get to your first ride.
Eat breakfast in the Disney Village first
Once you're in the park you want to focus your time on getting on rides before most of the crowds make their way into the park. When you're on a tight time limit don't waste some of this quieter early morning time to eat breakfast when you can do it before the park is open.
Pay for premier access
If getting on as many rides as possible is important to you then you can book premier access, Disneyland Paris' version of a fast pass. It's not a cheap option at upwards of $150 or £100 per person per day so make sure it's right for you before you book.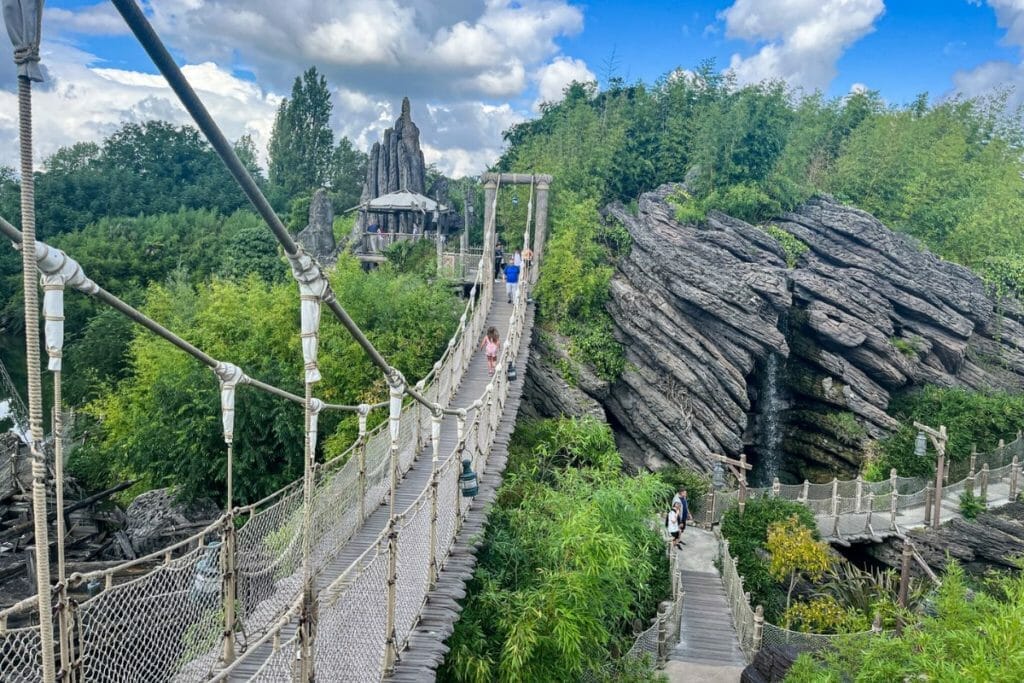 1 day itinerary for Disneyland Paris
Morning
First thing in the morning you're going to want to get in the queue to ride Big Thunder Mountain, it's a popular ride so the queue can get quite big. Definitely worth doing at least once during your trip.
Afterwards take some time to explore the rest of Frontierland, there are a few shops, the Thunder Mesa Riverboat Landing and loads of cool scenery to take in. The Phantom Manor ride is a great addition and really fun if you have some spare time and the queue is a good length.
From Frontierland you're going to walk through to Adventure land and spend 30 minutes exploring the caves around the skull and the bridge at Adventure Isle
Add the Pirates of the Caribbean ride to your list of unmissable rides. The effort and detail that's gone into the ride shouldn't be underestimated. It's our absolute favourite family ride at Disneyland Paris.
Head back to Main Street through Adventure Land and make sure you walk through Le Passage Enchanté d'Aladdin. This walking attraction takes you through the journey of the Aladdin story with miniature scenes that have incredible detail. Definitely a stop not to miss!
Stop at Main Street for a Disney inspired late morning snack. We love anything themed as they're so unique but if you're looking for some specific recommendations then we'd suggest the Mickey Beignet from the Cookie Kitchen, or the Mickey Sandwich or Ham and Cheese Toastie from Market House Deli. If you try any of our recommendations then let us know what you think in the comments.

After your snack head to Discovery Land where you can find a great mix of rides including Hyperspace Mountain, Autopia and Star Tours.
Afternoon
During the normal lunchtime rush, take some time out and see a show. We 100% recommend the Lion King: Rhythms of the Pride Lands show but there are plenty to see – just take a look on the app. You may think the rides are quieter during this time because everyone is eating lunch but we've found that this is the busiest time for rides.
After the show you're probably going to be ready to grab some lunch. There are many restaurants in Disneyland Paris so there's loads to choose from. I'd recommend taking a look at the menus in advance so that you have an idea of where you want to go. Cowboy Cookout Barbecue or Casa de Coco are both good if you see the Lion King show as they're right near it and the food at both is pretty tasty.
At this point head into the Walt Disney Studios Park and look at the app to see which rides are best for you to head to based on the queue times.
Once you've spent 2-3 hours enjoying the rides at Walt Disney Studios Park head back to the Disneyland Paris park and towards Fantasyland. On your way make sure to have a look around the Sleeping Beauty Castle and visit the Dragon that lives underneath. It's an awesome animatronic that is well worth a quick visit in your way past.
In Fantasyland go to the March Hare Refreshments for one of their amazing ice creams. They are well decorated and the ice cream itself is delicious. In true mad hatter tradition everything is edible – even the spoon!
Next on your list is the most iconic and unmissable Disney ride – It's a Small World.
If you have time between riding It's a Small World and the parade go on either Peter Pan, Blanche-Neige et les Sept Nains (snow white) or Les Voyages de Pinocchio. There's not that much difference between the rides so choose whichever has the shortest queue time.
Evening
Everyday at 5.30pm you can watch the main parade at Disneyland Paris – Disney Stars on Parade. Settle down on Main Street or the Central Plaza around 30 mins before and you can get a great view to enjoy the show.
Once the show finishes it's time for your evening meal so head to the Disney Village for some great restaurant options. If you're working to a budget then I can recommend New York Sandwiches and their Mickey Pizza deal. If you're happy to splurge then you can find Annette's Diner, Rainforest Café and The Steakhouse dotted throughout the Disney Village.
Depending on the time of year you visit you could have a couple of hours before you need to start getting in position for the fireworks. Use this time to ride whatever has the best queue time on the app. This is the quietest time in both parks so you should be able to get on quite a few rides during this time.
End your day with Disney Dreams – Disneyland Paris' magical firework display. It really is the perfect way to round out a day trip to Disneyland Paris and you won't regret staying late to watch them.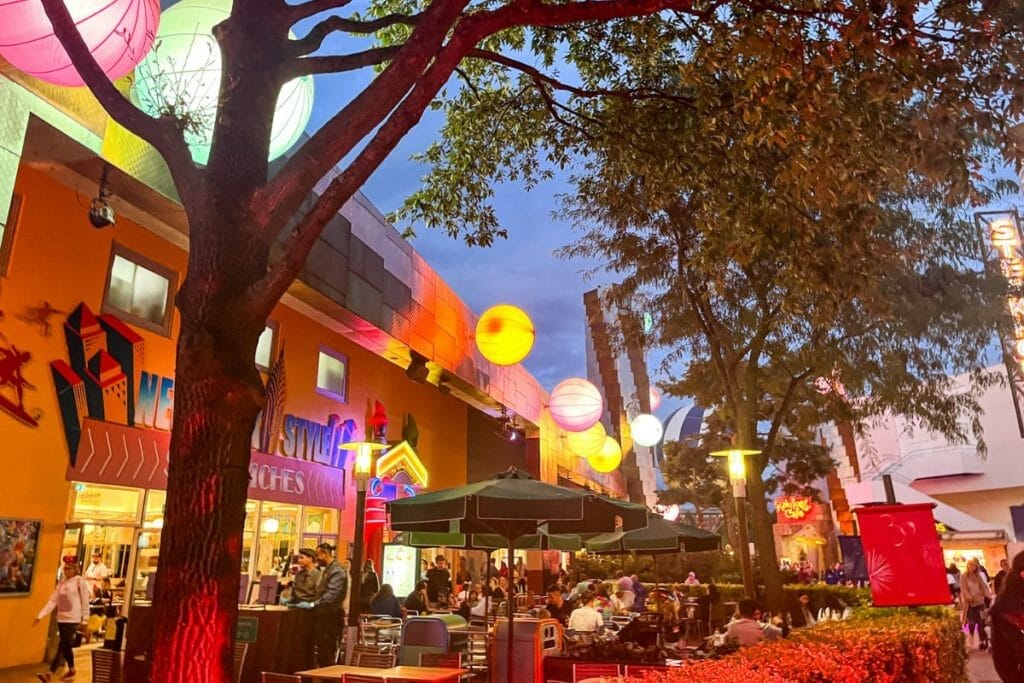 Can you do Disneyland Paris in one day? – Final Thoughts
Ultimately, you can do Disneyland Paris in one day. Can you see absolutely everything that both parks have to offer? No, however you can still have a great experience and
If I had to choose one tip for someone planning a 1 day itinerary to Disneyland Paris would be to do research before you go to build out your plan and have some idea of where you want to go and what you want to do. You can use blogs (like this one), the Disneyland Paris website and Youtube to get inspiration, an understanding of the layout of the parks, and see what others liked (and didn't!).
If you want to make the most out of your short time there don't go without a plan, the Disneyland Paris parks are pretty big so if you wander around aimlessly you'll spend more time walking than going on rides or seeing shows.